This year, we reached the Earth Overshoot Day, an annual marking of our overconsumption, on 19 August, earlier than ever in history, which shows that the ideal of sustainability is getting further away. Meanwhile, the ebola outbreak in West-Africa has highlighted several health and development issues. These are only two examples out of the many global problems we come across daily, yet we are reluctant to react to. What are the reasons? Are they the lack of information or indifference? What can schools, responsible citizens or future generations do to change this trend? What kind of cooperation across borders and continents do we need? Through presentations, interactive workshops and round-table discussion, the conference "Global schools connect – partnerships between Africa and Europe" will focus on the main issues of the ongoing partnership between Hungarian and Sierra Leonean schools.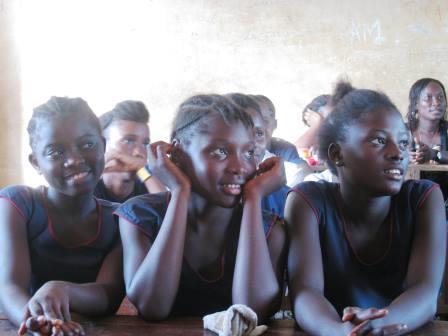 The program is recommended for teachers, principals, university students, educational experts and professionals dealing with sustainability, global education and international development. The conference is held is Hungarian and English. Translation is provided.
Admission is free, but registration is required. Please register here. THE DEADLINE FOR REGISTRATION IS 18 November, 2014.
Global Schools Connect website
Program:
Date: November 25, 2014
Venue: Eötvös 10 Közösségi és Kulturális Színtér, 1067 Budapest, Eötvös utca 10.
9.30-10.00 Registration

10-10.15 Welcome and opening
10.15-10.45 Key note speech: A Southern Perspective on Global Education, Max Zimani (Zavod Voluntariat, Slovenia):
Over the years, some good work has been done in Hungary and Europe in the field of global education, but rarely have these programs been examined from a Southern perspective. In whose name and for which interests are Europeans being 'educated' about global issues? Whose agenda, whose history and whose reality is reflected in this education?
Zooming onto global issues via inspiring talks, personal messages
10.45-11.25 DISABILITY IS NOT INABILITY

* Disability as a topic in the English class - Mónika Csapóné Mátó (Saint Stephen Church Primary and Secondary School, Makó):

The visit to Sierra Leone was a big cultural skhock, for many reasons. The idea of the joint project work came after the visit of the partner school, seeing the attitude of the teacher, how they integrate the disabled students. How did we cover the topic in the English class in Makó? How did the students react? What did we learn from each other, also about solidarity? The outcome of the joint work, from the teacher's perspective.
* The ebola situation as the failure of international development? - Diana Szántó (Artemisszió Foundation)

The visit of our partner teachers from Sierra Leone was prevented by the ebola outbreak. The health and social chaos around the epidemic has shown how fragile the basis of international development in Sierra Leone was. In a way, this development policy without any social insurance or welfare institutions has influenced the lives of the disabled beggars in Freetown with whom our African NGO partner works. Still, what can we learn from these people here, on the luckier side of the globe?

* The importance of legislation - Gergely Tapolczai, Dr. (member of Parliament)

Being deaf – before the equality act. Without any communication support. Being deaf – after the equality act and the sign language act. This is also possible!

11.25-11.45 Coffee break
11.45-12.25 A WORLD OF WASTE

* A sustainable universe, Dániel Varjú (ELTE Apáczai Csere János Practice Secondary School):
The universe is made of stories not of atoms. So in the past year, we were looking for stories and developing narratives around how we can make this universe sustainable, livable and greener.
* Food Waste, Dimitar Lazarov(Centre for Inclusive Education, Bulgaria)
In a world in which hunger has been identified by the UN as a global problem, responsible for the death of millions each year, the phenomenon of food waste raises a lot of questions. This presentation will offer an insight on the roots and causes of this global issue as well as the actions to tackle it that have been undertaken by schools, educators and students.
* Done with waste! - Renáta Pakot (Terracycle Hungary):
The aim of Terracycle is to eliminate the concept of waste. The company, funded by Tom Szaky and present in more than 20 countries in the world, aims to reuse the traditionally not recyclable materials. Terracycle works together with 30 brands in collecting and re- and upcycling packaging materials and products (bags of chips, chocolate/candy papers, plastic bags of drinks, pen and pencils, tooth brush etc.) that would otherwise end up in the trash.  
12.25-12.40 Exhibition opening: CLASSMATE FARAWAY– Hungarian and Sierra Leonean coproduction

Coctail dress from recycled paper. Cassava and pepper. Sports' day in a wheelchair.
The exhibition shows the highlights of the joint work of the classes in Hungary and Sierra Leone. The students worked on issues such as environmental pollution, healthy food and nutrition, and disability. During the joint work, local characteristics as well as surprising similarities were also discovered between Hungary and Sierra Leone, that might inspire us to act locally for a better world.

12.40-13.30 Lunch break
13.30-14.30 Roundtable discussion: The world in the classroom

It seems that bringing global themes in class is not that easy – there is not enough time, the curriculum is strict; however, global issues can be linked to each subject, and they help us understand the world we live in. What does it depend on? What do the different actors of education think about it? What kind of creative pedagogical methods are there, and which policy measures are needed to introduce global issues in everyday school life?
Moderator: Csilla Mihalicz (journalist)
Panelists: representative tba (Ministry of Foreign Affairs and Trade), representative tba (Klebelsberg Institution MaintenanceCentre), Attila Varga (Hungarian Institute for Educational Research and Development), Dimitar Lazarov (Center for Inclusive Education), Szilvia Csanády (Arany János Primary and Secondary School), Bence Csontos (National Youth Council of Hungary)
14.30-14.45 Coffee break
14.45-16.15 Parallel Workshops

1.    Recyclart - Cellux Art Group

The artistic programs of Cellux Art Group promote the environmentally conscious thinking. Our materials are household and urban waste, our tool is recycling. In this workshop, we will create notebooks and wallets from office paper waste and inspiring packing materials (plastic bags of coffee and chips etc). The aim is to create practical and aesthetically nice everyday objects.

2.    The school partnership method - Kristine F. Tolborg (founder of Global School Partnerships Denmark)

Based on several different cases, this workshop presents experiences and practical tips from school partnerships and joint teaching projects between European schools and schools in Africa, Asia and the Middle East. We will look at both challenges and opportunities with cooperating across borders and include time for open discussion about the method.

3.    Global dimension in everyday school life (Dávid Bán and Balázs Nagy, Anthropolis)

The workshop is about the inclusion of the global dimension in everyday teaching practice. How can sustainability be present in the whole school, regardless of the specific subject? How can we cover the complexity and the impacts of globalization in the class? The workshop is based on the active participation of the participants. We will work on the social, environmental and economic impacts of cooperation and competition with the help of a simulation game.

16.15-16.30 Closing