When I decided to join the trip of the Building Bridges group of Artemisszio, I did not know what to expect from it. During these two days I would have known people from so many different countries, nationalities, cultures and languages. In my mind I was thinking: should I be worried? Maybe it won't be easy to integrate with them...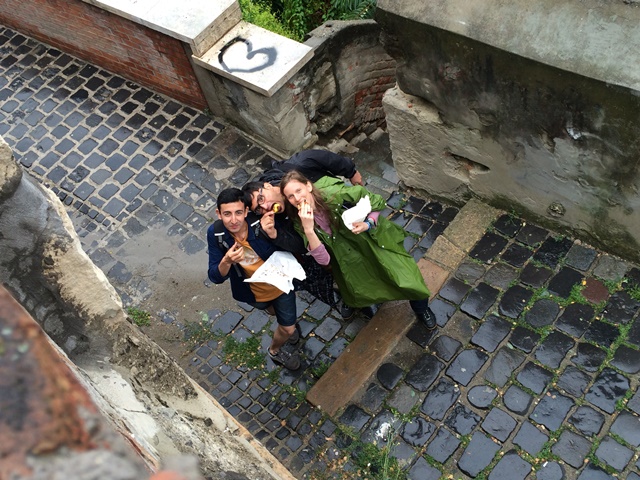 Nothing could have been more different from this, as when I arrived I received a great warm welcome from all the participants. They were eager to get to know me and spend some time with me. Unfortunately I joined them only in Szentendre, and I could not take part in the adventure that they had in the wood in Visegrad. This is the right word to describe what it was: ADVENTURE, as they were laughing about how hard it was and how together they were able to overcome the difficulties. However I'm sure that this difficult road allowed them to be closed and create a great feeling of community. This process probably speeded it up.
We started to visit the city, as we were one little group made of not more than 5 people and after this some of us started to go to the house, which was on a hill. The trip was not easy, as the road did not allow the cars to proceed smoothly, but all the participants saw it as something funny. I was part of the last group that reached the house, and I was surprised to see that they decided to wait for us, in order to have the dinner. During and after the dinner it was the time to communicate in a deeper way, and find out so much about the personal histories of most of the people that were part of the project. To be honest I feel like I can't talk about a single person, because it was the mixture of the personalities that made it unique. While we were playing board games I realized that I could probably have more in common with one of these people, than with my neighbours, even if we are not born in the same country. The hours were passing like minutes, until some of us decided to go to sleep, and many others were awake, immersed in very long conversations about every possible topic.
The morning after we have several projects, in order to allow us to express ourselves, be creative and find out something more about ourselves and how we could be part of a community. My favourite moment was when they asked us to register a story, especially because the topics were really interesting, regarding something that influenced our lives. I could not expect that even though we had similarities the point of view could have been so much different, as the starting point in life is often different for most of us.
The only thing that I regret is that I did not have more than 2 days to spend with them, and when the clock started to run I was thinking of a way to meet them again, and I'm sure we will have the possibility to be together in other artemisszio events. I'm truly looking forward for this and I really want to thanks all participants and the people who organized it and made this event truly unique.

Andrea Fatale