In our "Global Fairness – Schools as Agents for Change" project we have organized a summer camp for students of four different schools in Balatonfenyves. The aim of the camp was to think and discuss together about the local influences of the global issues.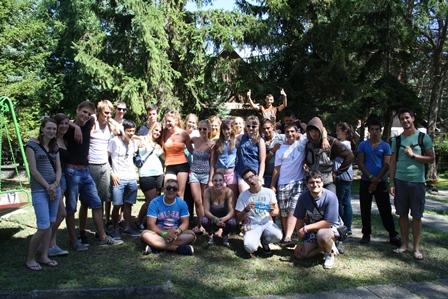 After the camp the students were expected to launch actions in their own schools  connected to the different topics that we have discussed in the camp. In this way, they could pass on the knowledge they gained to their schoolmates.
The video below titled "August 19th" was created by the students of Ady Endre High School:
The main focus of the "Make a Comment" summer camp included social and environmental issues, the acceptance of diversity, tolerance towards each other and understanding of different cultures and life situations. The stage was well set by the fact that the students themselves came from absolutely different types of schools regarding their structures and cultures. In many cases, the social background of the participants were also very different.
During the workshops - be it about poster-making about the world we live in; interviewing people about the local effect of environmental, economic and social processes; or experiencing the effect of global problems through interactive exercises – the students had the opportunity to look at issues from different points of view at the same time as they got to know each other
To make this picture even more colourful we invited immigrants and refugees living in Hungary to the camp. Through their personal stories they told us about their life situations, culture and the issues that are of the most interest to them. There was even a board game about migration played by students, teachers and migrants together.
Last but not least, we discussed the local effects of global environmental changes during our trip to the Kis-Balaton nature reserve.
In the camp, we chose video making as the main tool for education, documentation and evaluation. The students made 1 to 10 minute-long short films about their experiences almost every day. After the camp, they could proudly show these to their schoolmates, relatives and friends.
Finally, among the aims of the camp was to introduce students to global education as the teachers who take part in our 3-year-long project had just started to use the teaching materials they had developed in their respective schools.
The schools that take part in the project:
Ady Endre Gymnasium
Dr. Ámbédkar School
Katona József High School
Tüskevár Primary, Specialized Secondary and High School
This project is supported by the EuropeAID program of the European Union, the Hungarian Ministry of Foreign Affairs and Trade, and the Hungarian National Institute for Family and Social Policy.
More about the project:
http://iskolakavaltozasert.hu/en
http://www.bgz-berlin.de/en/projects-and-products/project-overview/global-fairness.html