A small gallery in the center of Budapest, at the corner on a little street. A picture is facing the people in the street showing shadows of a young man with music notes coming out of his head facing three different types of armed men. One of them wearing the uniform of the Assad army the second one a normal guy with a simple gun the third is one of the Qaeda soldiers. That was the first thing I approached once I arrived there. Once I stepped in I felt my as if my heart was squeezed. Since a year from now I was trying not to get involved with anything reminding me of the misery of my country without success. I kept wearing my sunglass greeting my friends who were expecting me to talk about the exhibition.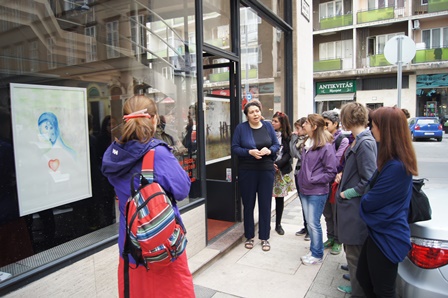 The owner of the gallery was talking about the artist and the situation in Syria and every now and then turning to me to ask or to get a confirmation or whatever else. With every word she was saying with every picture she was talking about I felt breathless. There was a heart lying on a small table. A heart made of little stones. To be honest that was the only thing which managed to get my attention. It was simply as if I am standing in front of a mirror seeing an image of my own heart. This sculpture was just as true as I feel my heart now. Each stone of it I gathered it from a grave of one of my friends I lost during the past three years. "Here and now" was my key to survive the past three years of my life. To always think of what can I do NOW in this place HERE to be able to keep what left of my brain cells, to try to survive the cruel life without stopping and collapsing and also never to give up and to be as I have always been a proud Syrian girl. To carry on my people's message, to tell the world that we the Syrian stood up for the sake of the whole humanity.
Anyway, after we finished our visit to the gallery we walked to the Roma culture house in Deák tér, the moment we stepped in I felt I was in a magical place, the painting the furniture the books the colors everything was vivid and strongly present. The film maker started to talk about the history, the artists and their work. She said that the artists didn't like to be labeled and to be referred to as "a roma artist or a roma writer" they only wanted to be artist or painters without labeling. This sentence captured me and I'm still thinking about it.
After touring at the house we had a lovely lunch then we started our session about Syria. I don't like politics and I don't understand it even worse I think it's an ugly thing. So I showed some pictures of my country of my city of my favorite places where I used to live and where I used to have my morning coffee. I didn't see those pictures since a year and I didn't notice how much I miss them till I faced them on the big screen. I wanted to tell everything but my words stuck in my throat. Next thing I showed was some short movies made by friends of mine in Syria. Some of them are dead already.
While we were watching the first movie which was made by my friend Bassel Shahadeh, I felt I can't be here anymore. I can't watch I couldn't speak. All I was thinking about is why did my friend die? Why did they kill him? Why all this madness? Why I can't go home? Why can't I see my family? Why are so many people displaced? Why the killing? Why the hunger? Why the war? I collected myself and showed the next film and the one after.
Then I remembered again the "HERE and NOW" that was the last sentence I said to my mom while saying goodbye to her. We have to learn to live the present and make the best of it wherever we are. We have to appreciate things we have before we lose them. We have to go on and the future is ours for sure. With my mood going down by each film or each story I felt that the group felt the same so we ended the session with a warm hug and a promise to live to not to give up and to keep standing strong.
It was a day to remember, the energy I got from the lovely strong girls within our group was incredible. Thanks to everyone who was there and thanks to Artemesszio for organizing this.
Rania Mleihi
DSM
1001 Nights
This report was prepared based on a visit to the exhibition titled 'Syrian voices in Budapest - Szíria hangjai" by Tammam Azzam and El-Hassan Róza titled Tammam Azzam és El-Hassan Róza on May 31, 2014.at the Léna & Roselli Gallery.