The 2nd session of "Ready, Study, Go" took place on a sunny Saturday on 12 Sep in Artemisszio office. The meeting began at 10 by welcoming members with tea, coffee and some nice cookies and the program officially started at 10:30 when everybody supposed to find his country location on an imaginary planet earth on the floor to enable members to introduce themselves through a game. It was though fun as they came up with new faces around themselves that made them knew each other faster.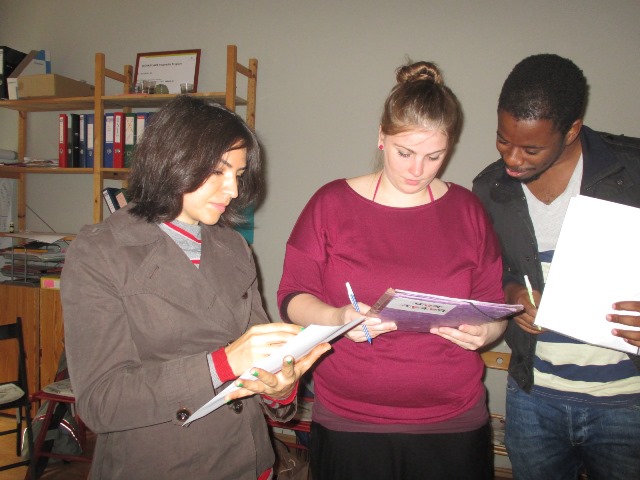 The other practical game was that we passed a universe ball to our friends after saying a global issue which starts with the same letter that our name starts, then the ball receiver had to do the same. For example Erzsi said Equality while she had the ball in hand and then she passed the ball to Marcsi and she mentioned Migration. It provided a good chance to recall the global issues which have already discussed in Kisoroszi.

Then, Dina presented Globalization concept while the diagram was being drawn on a white board and she made it more clear with some details and examples.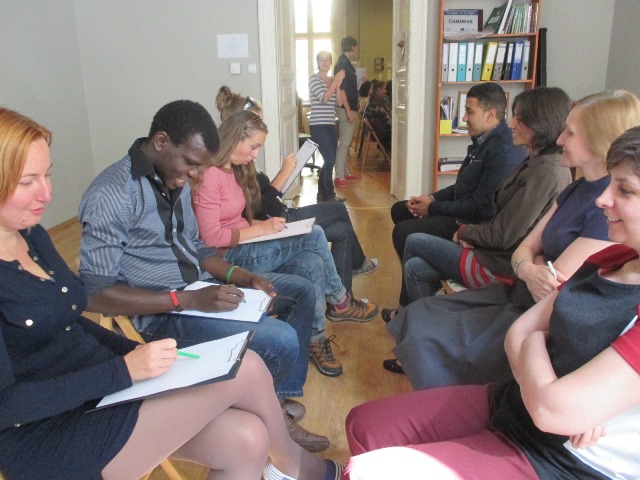 After that, Dina showed us some impressive short films regarding global issues. I assume all of us enjoyed watching them. The first topic dealt with "first worlds issues" and she challenged us with the question that first world's problem are not problem. The topic was indeed interesting, there were people for and against that which showed their idea by standing on a straight line grading from completely disagree to completely agree. Most stood on the middle but I went for completely agree and then tried to convince the ones who were at the opposite of extreme.

The other show was about a mutual support and understanding between African and Norwegian people who would like to support each other by providing the needs and shortages of each party. African liked to send out heat and sun to Norway, so they collected their heaters and radiators to send to Norway which it is almost nonsense. The message of the show was that people should have a good level of environmental awareness first and then try helping out people.

Then it was lunch time.Yummy lunch was ready at 13 and people were having lunch while socializing and making friends with each others.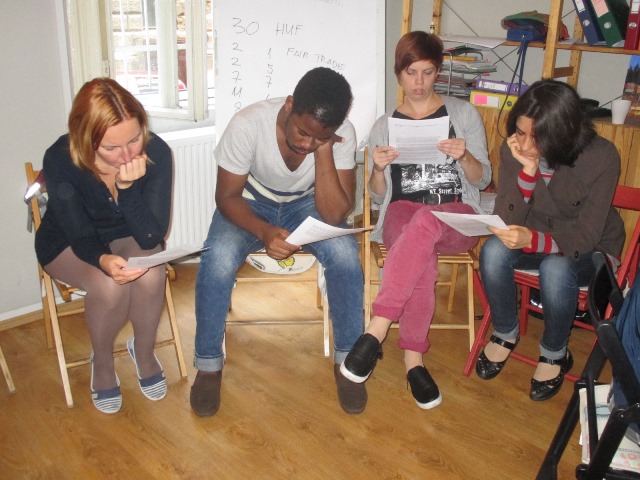 Lunch time and break took 1 hour and we went back to our program which was absolutely hilarious. We were divided to two groups of models and painters and each had to draw the model in only 10 seconds and the model gave the painting to another painter and he/she had to complete the paining in another 10 seconds. I laughed a lot when I saw my portrait because I did not have nose on my face after 40 seconds drawing by 4 peers.

Last project was discussing migration crisis. We split to 4 groups and were given some essays related to refugees' problems, Europe attitude and action, volunteers role, … and making summary for the rest while bringing up our ideas and solutions to the topic. Last group could make a comprehensive statistic presentation with fresh recent data which was interesting.

The program ended at 3:45 pm in order to join the solidarity event. 
By Bahare Shams