We have arrived at the end of the Not The Weaker program, a project designed to promote migrant women's integration. During this year, we have been working with migrant and Hungarian women living in Budapest to help migrant women's integration and personal development through individual initiatives and the joint realization of ideas. We would like to conclude our work with a show and celebration. We are going to present the art projects that participants created together and hold workshops to give a foretaste of certain services and methods applied during the program.  The event offers guests the opportunity to experience how migrant women who live here see the world, Hungary, local life and themselves.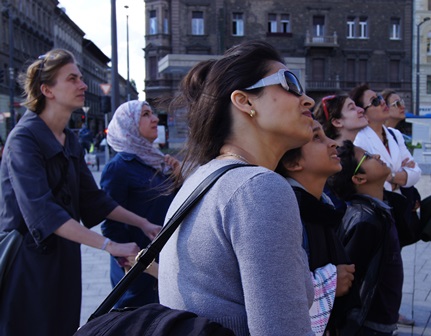 Program:

17:00: Opening speech
Every hour: Guided tour at the exhibition created about the project
Guide: Teréz Pataki

17:15: "Buda-Pest and more!" – Film screening and discussion
"And do you feel at home?", Rania Mleihi asks other participants, who answer the question presenting well-known and less well-known sites of Budapest.
Director: Rania Mleihi

19:30: HOLLÉT/WHEREABOUT - Theatre performance by migrant women
The play is a result of the drama workshops that we run during the year. It deals with topics, situations, thoughts and emotions in concrete and symbolic forms that participants face in their everyday life.
Project leaders: Panni Végh and Barbara Somfai
Performers: Forough Hassanpour, Lori Baldwin, Luiza Moraes, Rania Mleihi, Elvira Nurieva, Anna Kiss
Scene: Vesna Lomic

Workshops

17.45-18.45h Video workshop (GIF making)
We were experimenting over the year with showing our ideas in the language of video – not moving away from the theme of migration, of course. We are going to show the result and invite everybody to make new GIFs with us. 
17.45-19.15h MOMAP individual coaching
The participants took part in individual sessions where we worked together on their motivations, challenges, intercultural skills and social connections connected to their Hungarian life. To get an impression about the activities, we would like to share now one of our creative exercises that helps people to look at difficult, challenging situations from a positive perspective, so they can realize that these situations can be good opportunities to learn.
Workshop leader: Viktória Jakó and Zsuzsanna Komjáthy

17.45-19.15h Special guest: Soundbath choir
Soundbath is an alternative community and performer group, that was born from the marriage of choir concert and relaxation. It uses the human sounds and voices in an improvisative way to depict different pictures, moods and stories. The lying and relaxed recipient can take place in a special inner journey during the concert.
During the workshop the participants at first can contact their own voices, and the relations born by their voices. After that the vocal visualisation of the frame story called Vagabond birds will enable them to relive their inner and outer journey, that starts with leaving the secure home, through overcoming different obstacles, till the joyful arrival at the "land of hope".
Migrant participants will also present individual shows (poetry reading, singing, music, dance teaching, concerts, etc.) during the event
About the Not the Weaker program
We realized many different activities during the project. We set up a drama group, worked with social media and organized cultural and community events. Participants could play both volunteer and non-volunteer roles, and thus became active agents in the program. Migrants were also supported by an individual mobility coach to clarify their goals and reveal the opportunities lying in mobility. From the kick-off team building we arrived at the joint realization of art projects. Our goal was to support migrants in their personal development and successful integration through networking.
The project is co-financed by the European Integration Fund of the European Union.
The project was designed and implemented by Artemisszió Foundation.